THE STRONGEST WATERPROOF FLOORING YOU CAN BUY.
SCRATCH, DENT, AND IMPACT RESISTANCE
UNMATCHED

IN THE INDUSTRY.
Rigid Max™ represents the next evolution in Luxury Vinyl Waterproof Flooring.
YOU SIMPLY CANNOT BUY A TOUGHER, MORE DURABLE FLOOR, ANYWHERE!

The patented construction of Rigid Max features an innovative Rigid-Core structure and a convenient Lock & Fold installation, making it the perfect waterproof flooring choice for the most challenging rooms in your home. These Waterproof Luxury Vinyl Planks can be installed quickly on all grade levels and over most existing floors and subfloors. The result is a beautiful, durable, quiet and comfortable Waterproof Rigid Core Luxury Vinyl flooring that can be enjoyed in your home right away.  A full line Rigid Max™ colors are available in a traditional glue down Luxury Vinyl Plank profile as well.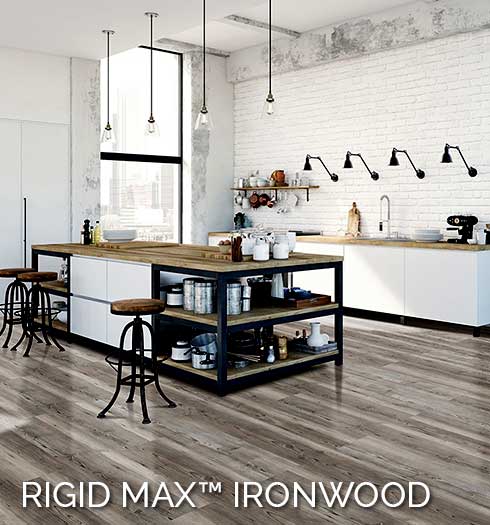 RIGID MAX™ RUSTIQUE

$4.49 SqFt
RIGID MAX™ ROCKY MOUNTAIN

$4.49 SqFt
RIGID MAX™ NAPA

$4.49 SqFt
RIGID MAX™ SHADOW

$4.49 SqFt
RIGID MAX™ IRONWOOD

$4.49 SqFt
RIGID MAX™ RAVEL

$4.49 SqFt
RIGID MAX™ CHATEAU HICKORY

$4.49 SqFt
RIGID MAX™ SHERWOOD OAK

$4.49 SqFt
RIGID MAX™ HOMETOWN HICKORY

$4.49 SqFt
RIGID MAX™ ACACIA

$4.49 SqFt
RIGID MAX™ MOUNTAIN TAVERN OAK

$4.49 SqFt
RIGID MAX™ COASTLINE

$4.49 SqFt
THE RIGID MAX RIGID-CORE ADVANTAGE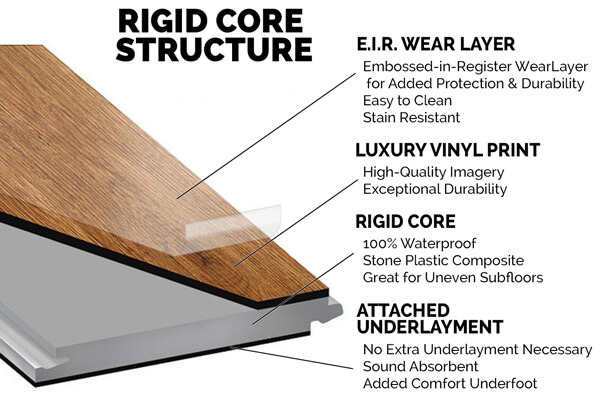 What makes Rigid Max such a durable surface for your home? The secret is RigidMax's SPC Rigid-Core construction!
WHAT IS AN SPC CORE?
SPC stands for Stone Plastic Composite, a core comprised of calcium carbonate (limestone), polyvinyl chloride (PVC) and plasticizers. SPC does not have foaming agents added, giving it a stronger, and more robust core.
Because SPC's core layer is comprised of limestone and PVC composite, it has a higher density in comparison to Wood Plastic Composite (WPC) products, such as USFloors Coretec® line. This makes it more durable compared to WPC. Its high density offers better impact resistance to dents from furniture or heavy items being placed or dropped on top of it.
EMBOSSED-AND-RAISED TEXTURE – A NEW INDUSTRY STANDARD
What is Embossed-and-Raised Texture Flooring?
If you look closely at a sample of Rigid Max flooring, you'll see something remarkable. There are fine indentations that exactly match the underlying image of the wood grain. The embossing that creates the indentations and ridges must align perfectly with the image of the wood to achieve this extremely realistic 3-dimensional appearance.
This precise alignment is known as Embossed-and-Raised Texture Flooring (EART).
How Are We Different?
Our wear layer is different from the industry standard, Embossed-In-Register EIR used by most major brands. Embossed-In-Register EIR flooring has two image levels: surface level, and the groove-embossed level.  Embossed-and-Raised EAR flooring has THREE image levels: surface level, the raised-embossed level, and the groove-embossed level. With Rigid Max, the texture of our flooring is both above AND below the image layer, and is carried through into the wear layer itself. The texture of the flooring you see goes from the top layer, all the way in to the bottom layer of the Rigid Max core.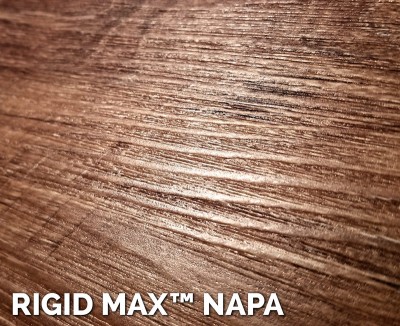 Why Is This Important?
This means Rigid Max has TRIPLE THE RESISTANCE to scratching, wear, and dents than our competitors.
The textured Embossed-and-Raised Texture creates an ultra-tough extra top layer for added protection against scratches and added protection and durability. The deep texture means Your floors do not have to worry about the texture being worn off in higher traffic areas, and will hold up better, and look newer, longer. than others in the industry
Also, it creates a level of realism that can't be achieved in any other way. The perfect match between the wear layer embossing and image creates a depth of realism that cannot be matched by a flat surface. Flooring manufactured with random or no embossing never looks natural.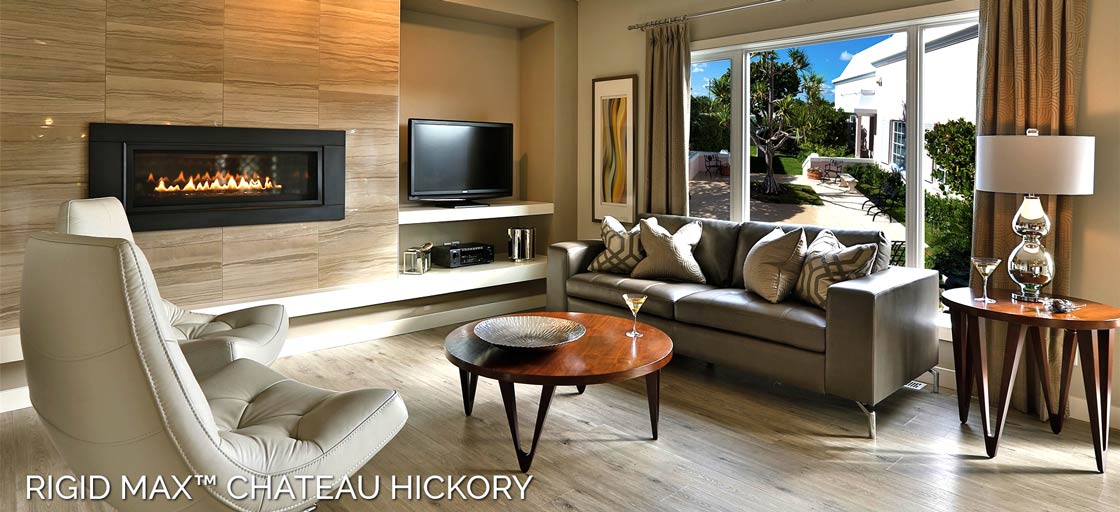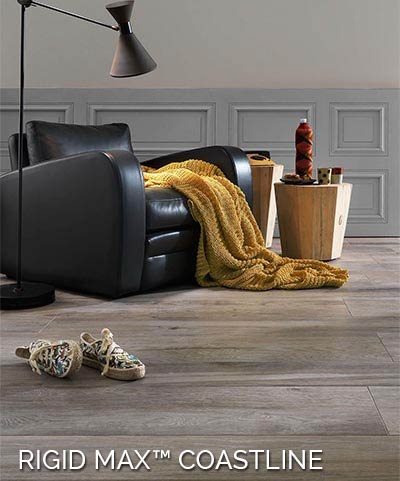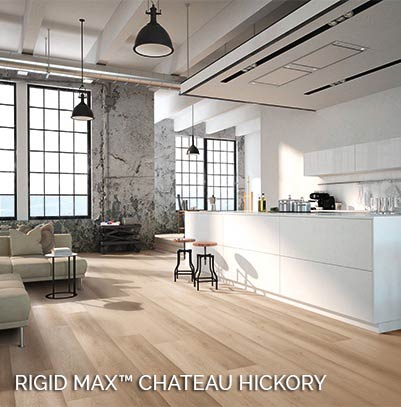 Rigid Max is FloorScore Certified
We spend most of our time indoors, so breathing healthy air where we live, work and play is critical for your family's health. Children are especially vulnerable to the harmful effects of indoor air pollution. Many flooring products emit harmful amounts of volatile organic compounds (VOCs) in the air that can include dust, allergens, and even formaldehyde emissions, all of which are potentially carcinogenic.
It's important to shop for flooring that has been FloorScore Certified, ensuring low VOC emissions that are not harmful.
Products with the FloorScore label meet the indoor air quality emissions criteria of the US Green Building Council's Leadership for Engineering and Environmental Design (LEED); Collaborative for High Performance Schools (CHPS); WELL Building Standard, Green Guide for Healthcare, and other leading green building standards.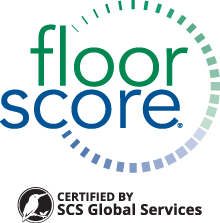 ADVANTAGES OF RIGID MAX LVP

Rigid Max luxury vinyl planks are easy to install without the need for messy glue, mortar or perimeter bonding like other floor types. With it's Unilin patented glueless Uniclic® lock & fold installation system, Rigid Max uses a floating flooring method that makes for the easiest possible installation. The simplicity and ease makes this the perfect choice for the DIY enthusiast, and also means big savings on installation costs if you decide to go with a local professional.

The SPC-core composition of Rigid Max means that this product is 100% waterproof. You can use this Rigid Max flooring throughout your entire home or business, in any room, on any level, in areas of the home where hardwood and other moisture-sensitive flooring types are not typically recommended, such as laundry rooms, basements, bathrooms, and kitchens.

Rigid Max has a attached ultra-quiet pad backing, which 1) provides an effective sound barrier, and 2) eliminates the need for a separate underlayment during installation. In independent product testing, Rigid Max™, with its attached foam padding, performs considerably higher than the competition both in sound insulation (STC 68 – blocking exterior sounds) and sound transmission (IIC 73 – attenuating walking and impact sounds).

With its Stone Plastic Composite construction, Rigid Max has more robust impact and dent resistance than similar WPC products. This means your floors can withstand the most challenging environments, will be more durable, and will look newer, longer.

With Rigid Max, the texture of our flooring goes both above AND below the image layer, and is carried through into the wear layer itself. The texture of the flooring you see goes from the top layer, all the way in to the bottom layer of the Rigid Max core. This gives Rigid Max TRIPLE THE RESISTANCE to scratching, wear, and dents over most other brands.

With its waterproof core and scratch-resistant 20mil wear-layer, Rigid Max can stand up to whatever punishment your pets can dish out. Whether accidents or nail marks from running and playing, Rigid Max is built to handle it. It's also less slippery on those little puppy paws than most of the laminate options.

When it comes to scratch resistance, all vinyl flooring products depend on their outer wear-layer for durability. The thicker the wear-layer, the better your floor will hold up. Rigid Max has the same 20mil EIR Embossed-in-Register wear-layer as industry-leading products that can cost up to twice as much.  You simply can't find a harder, more durable surface for your most challenging rooms.

Because of their dense SPC core, Rigid Max Flooring planks are warrantied to never expand or contract under normal circumstances. This means your floor is inert and dimensionally stable, and will never need expansion strips in large rooms, ensuring your installation is reliable for years to come. Also, no acclimation is required prior to installation, so your floor can be installed right away

Rigid Max is denser, stiffer, and sturdier than other floor types. This means you can install these planks over most existing hard surfaces, such as ceramic tile or hardwood. The Rigid Plank Technology helps to eliminate ripples and waves that are often caused by uneven subfloors, and also minimizes the need for extensive prep-work and leveling compounds that other installations might require.
RIGID MAX™ TRADITIONAL GLUE-DOWN LVP
All Rigid Max Colors & Styles Are Also Available in a Traditional Glue-Down Luxury Vinyl Plank
Can be installed in long runs without transition strips, ideal for homes with open floor plans and with seniors or those with special needs
Features Embossed-and-Raised Texture Flooring, the most advanced scratch resistant technology on the market.
Cabinets can be installed on top of this floor for faster, easier installation.
All Rigid Max floors are FloorScore® certified which means they are independently tested and meet stringent indoor air quality standards. This certification also qualifies all of our floors for low VOCs.